Sagada is situated approximately 143km northeast of Baguio. Getting there was a gruelling 8 hours, we left at around 4 am. We have to pass through rough roads, most of it were just cut out from mountains. Landslides were evident. Fortunately, the road was not as slippery as expected.

But it was a memorable road trip. The distinctive vegetable terraces and cliffside views were really spectacular. The sceneries made us forget our aching butts and stiff torsos. Responding to the call of nature was not a problem. We passed by several stopovers near the Guerilla Saddle, the highest point of Halsema Road and of the country's highway system, and a hotel near Mt. Data.
We arrived just in time for lunch. I forgot the name of the place where we ate, the only thing I can remember about the place is a huge poster of Bob Marley (get up, stand up, stand up for your rights...). The food was nothing out of the ordinary. Just plain old Filipino dishes.
After eating, we went to Sagada Igorot Inn to leave our things and stretch our stiffened muscles. Apolito, our superb tour guide, went to the town hall to inquire about the cave tours. We were able to hire 2 competent tour guides for P350.
Our first stop was the Sumaging Cave or "The Big Cave", 800m south of Sagada. From the exterior, the cave's yawning entrance was impressive. It was a little scary, at first. I was expecting a much smaller cave, where we don't have to grope in the dark just to see limestone formations.

Equipped with medium-strength nylon ropes and petromax lamps, our guides started to lead us through the cave. The first few feet was easy, the rocks near the cave's entrance was chipped off to serve as our stepping stones. And then, the descent became challenging. Where the makeshift steps ends, steep and slippery rocks emerges.

The bats inhabiting the cave's interior made the descent unpleasant and creepy. Bat droppings are everywhere, and their noise can get quite scary. Because of the jagged rocks, we didn't have any choice left but to get a good grip on the rocks and feel bat droppings on our hands (it smells awful, by the way).
We encountered the first sign of limestone formations after an hour. After removing our shoes, as requested by our guides, we washed off the dirt and droppings from an underground stream running through the cave. The water was a bit cold, but it was refreshing.

Our exploration didn't stop there, the next few minutes was tricky. We had to maneuver ourselves into small passageways,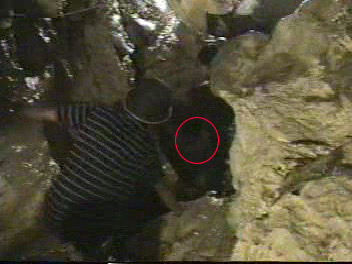 climb down flowstones with our guide's assistance (they sometimes use parts of their bodies as stepping stones, but not for horizontally challenged people), wade through waist high, freezing water and crossing across a small chamber with a big gap filled with 6-ft. deep water while hanging on to the nylon ropes. Kiddiebo was unfortunate enough to lose his grip on the rope and had a quick but chilly dip.


The cave holds impressive limestone, stalactite and stalagmite formations, andnumerous chambers. There was this curtain-like rock formation where we had our pictures taken which, unfortunately, wasn't included in our photo collection since the camera had no f

ilm.

There was also a gigantic limestone formation which the locals dubbed as "The Pregnant Woman". We were also able to pass by a chamber which holds a vast swimming pool.
Unlike mountain climbing, the most difficult part of spelunking is the descent, for fear of slipping. Going back to the surface was easy, but we still had to touch and smell the bat droppings.
We enjoyed exploring the cave so much that after hearing from Apolito about another cave in the vicinity with a more fantastic crystal formations, we were eager to brave through another cave exploration . Unfortunately, Crystal Cave was closed off due to looting and vandalism.
Anyway, it was already 4pm, going to another cave was out of the question. So the group opted to go to Sugong, 500m south of the town hall, in Brgy. Ambasing. The place is known for its hanging coffins. The main attraction is a few minute walk from the main road. You can easily make out most of the trail so there was no need to hire a guide.

We reached the place with no fuss at all. At the end of the trail, you can see a big cave entrance with stacks of coffins carved out from logs. The coffins were stacked from floor to ceiling. A few coffins were scattered all over the place, some of them was already looted, either by tourists or by the locals.
I was thinking, we were lucky to have seen all of it. Who knows what might happen to it in the next few years. Most of our country's popular attractions are either closed off temporarily or damaged permanently due to rampant looting and vandalism.
We went back to the hotel to wash off the remaining bat droppings. We did a little window shopping in one of the shops selling native cloths, carrying pack and hand baskets made by ethnic minorities. We also went to Apolito's friend's house and bought some of her bracelets.

We had a very delectable dinner at Alfredo's Restaurant. And finally got to sleep at around 8pm. We were too tired to even think about doing anything else that night but sleep.